When it comes to cooking, it often seems difficult and boring. It takes quite a lot of time, doesn't it? The preparation of raw materials, gathering of necessary cooking utensils, precooking, and then finally comes the actual preparation of food. It all sounds tiring. But well, if you have the right tools and cooking utensils, you'd be able to cook with so much ease and comfort that you wouldn't even realize how efficiently you cooked. All you need are the basic cooking utensils and nothing fancy. When you get a grip of them, cooking will automatically come with ease.
The silicone wooden handle cooking utensils come in a set of 8 that anyone can use, be it a chef, amateur or a pro.
It contains:
Spatula
Skimmer spatula
Pointed spatula
Ladle
Round-edge turner
Straight edge turner
Pasta fork
Spoon
With such a variety of cooking utensils, you would be able to cook all types of delicious meals and cuisines at the comfort of your home.
Now, you might be wondering what's so special about these cooking utensils set and how would it be helpful to you. Firstly, all of these are made of silicone that would provide you with 100% safety. It doesn't leave any kind of hazardous substances and smoke on the surface when exposed to heat, which is not the case when you use cooking utensils made of plastic, wood, and metals. The wooden handle also accounts to the safety while you handle these cooking utensils since it doesn't conduct heat.
These utensils set has some amazing features that would assure you how great of a set this is.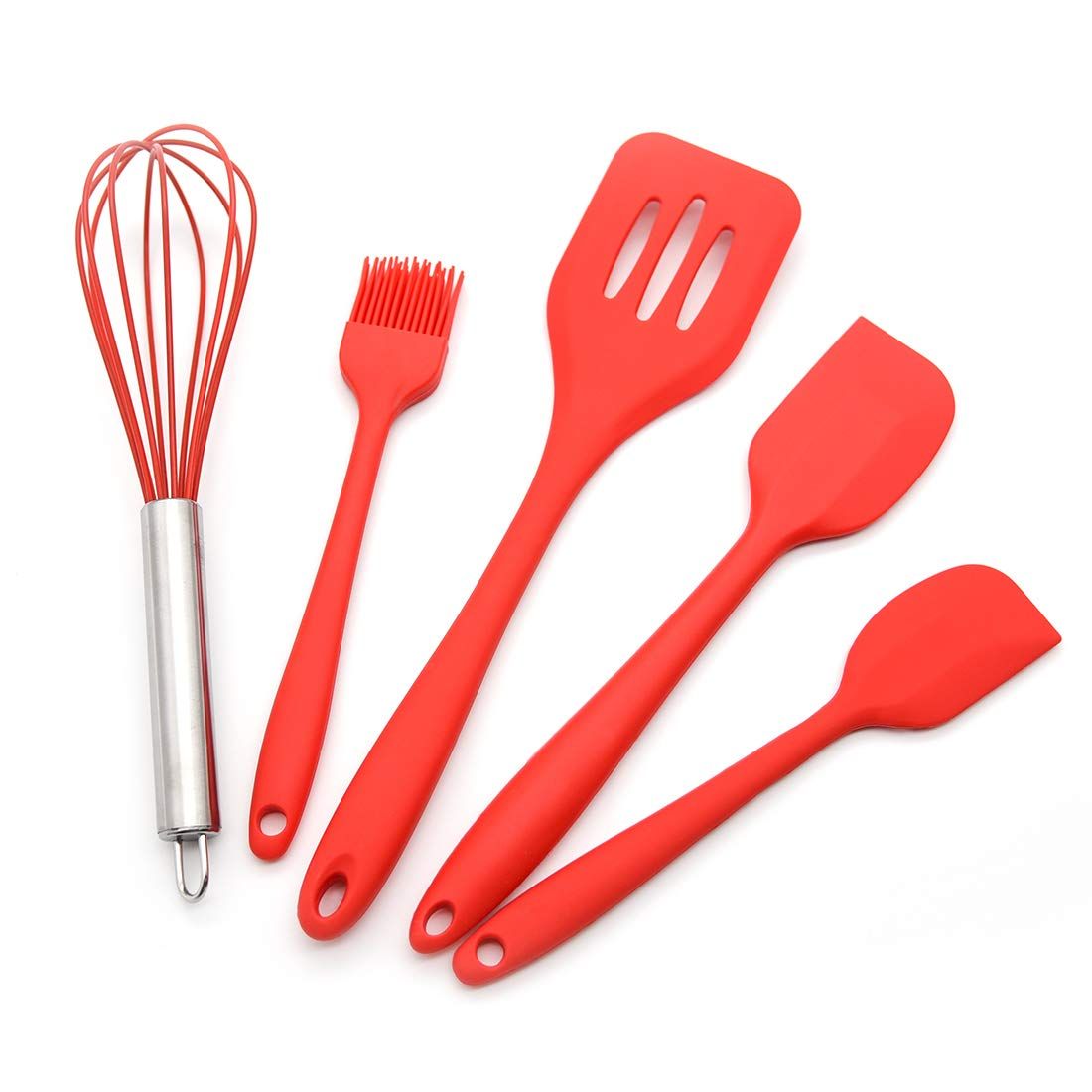 Features:
They are totally safe and non-poisonous.
The silicone body and wooden handle make the cooking utensils much safer to use compared to the other materials.
You can clean them easily and effortlessly.
They can be hanged anywhere in your kitchen.
Their lightweight wouldn't cause strain to your hands. It just weighs 0.86 kg!
You may ask now about their longevity, and for how long would they last. You'd be surprised to know that they are highly durable and would last you for years if you take proper care. Since they can withstand heat as well, there are hardly any chances that they would melt even if you dropped them in the pan accidentally. Sounds interesting, right?
When it comes to the design, each of the cooking utensils is uniquely designed to provide you with utmost comfort. The sheer elegance they would provide to your kitchen is simply unmatchable.
And the best thing is that these don't come with a high cost too! The quality with which these are made and the price with which it comes, you shouldn't miss out on the amazing deal! So, what are you waiting for? Grab your set of these now and make your cooking fun, interesting and comfortable! Say goodbye to those previously owned utensils of yours, and make way for these new babies!